Thanks so much, Eileen, for letting me guest blog at your place to help promote the release of my new novel
CLAWS
. I am five days into a 45-day blog tour, and I'd like to talk today about an interview I did on Saturday with an online call-in show called
podioracket.com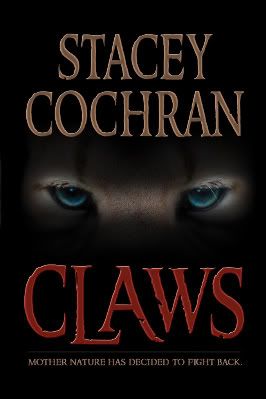 First though, a few words about
CLAWS
. The novel is a thriller set in Arizona that concerns a wildlife biologist who gets drawn into a Tucson police investigation when two of her best students at the University of Arizona are found dead early one morning on a golf course. The biologist suspects they were killed by a large mountain lion.
I need reviews at Amazon.com more than anything else. Also, I'm offering to interview for my TV show anyone who buys five or more copies at Amazon.com. As you know, Eileen, my show is broadcast to some 90,000 homes in our area as well as on YouTube to a global audience.
Which leads me to today's discussion. So on Saturday, a friend of mine suggested I get in touch with the folks at podioracket.com. I did and I ended up speaking by phone with one of the show's hosts. After the call, I downloaded Skype for free from the Skype.com website as per her suggestion, and about an hour later I had my first Skype call.
I guess I was surprised at how easy this was to do and how free it was. It looks like the folks at
podioracket.com
are using WordPress for their website, and in six weeks, they've already built up a thousand+ subscriber base. They interview all of their guests using Skype.
One of the challenges I've faced with an interview TV show is that I have to physically have a guest in studio. And while I think the video image is more compelling than audio only, a programming model that allows authors to call in via Skype from anywhere in the world would have some very distinct advantages. Plus Skype is able to facilitate video calls, too, though podioracket.com isn't using this feature yet.
It was inspiring.
And it made me wonder what other kinds of topics you could have for a call-in show like podioracket.com and how best to drum up subscribers and interest. I've been batting around the idea of an online literary magazine that uses new-media technologies to tell stories and write book reviews. A video-rich and audio-rich magazine that redefines what a literary mag is in the 21st century… a sort of online TV network/radio show/literary magazine.
As with all new business ideas, figuring out the revenue source is a primary concern. Online advertising has come a long way in the past five years, but it still has a long way to go. And while I've made over a thousand dollars in advertising pay producing the howtopublishabook.org site, I'm not sure that's enough money to build what I have in mind. I guess you have to start somewhere.
At any rate, the point of this post is to say that the tools are in place to create what I'm calling a "New Media Network." An online amalgam that uses video, text, and audio content, draws its revenue from advertisers, and broadcasts a specific kind of content (e.g. ESPN has sports, Food Network has food, Ovation has Arts). What do I have in mind for content?
Well, you'll just have to stay tuned!
Thanks so much, Eileen. Now, go write a glowing review of
CLAWS
at Amazon!
LINKS YOU SHOULD VISIT!
CLAWS on Amazon
CLAWS on Kindle
How To Publish a Book Website
- Follow Stacey's Blog Tour